Not an apartment...
A home... with real-size bathrooms,
and parents who believe college kids should not pay for food,
and real mom-cooked meals,
and candy bowls,
and in the house were real-sized beds,
and everything was clean.
We slept.
and we ate.
and we ate.
and we ate.
then we slept.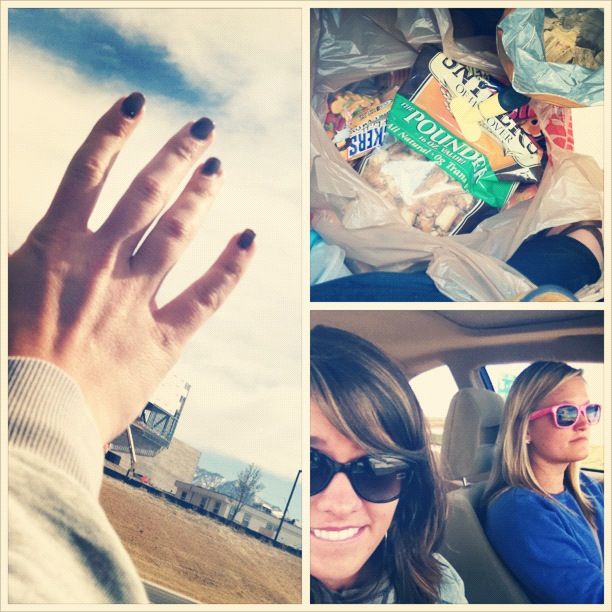 We played with the six year old sister,
and took a stop in mama's hometown on our way back.
Burley: where the only thing that blows harder than the town is the wind.
That was rude- I secretly love that dinky town.
I love it for giving me my senior prom dress,
and three weeks of bonding time with mama while grandma was sick,
and bonding time with grandpa.. when he wouldn't stand for any grandchild to be there but me.
I love Burley for making me cry the hot, embarrassing kind of tears,
for making me cry in front of a boy for the first and only time.
I love it for the Snake River,
and being serenaded by that boy on its banks.
I love it for the dinky movie theater,
and awesome cinnamon rolls.
I love it for the nursing home,
and the people who loved grandma as she passed from one side to another.
From the outside, she had been gone for a long time,
but she was still my mama's mama.
I'll never want to lose my mama.
Never never.
But when I do, I hope my kids are old enough to understand that no matter who she is then,
She was mine. She rocked me to sleep [when I let her].
She cooked for me, and cleaned up after me.
She taught me how to figure me out.
And when I cry hot tears when she's gone,
I hope they understand.
And maybe that's when they'll be forced to sit in my dinky hometown for three weeks.
And maybe, maybe, they'll like it too.
Love Always,
Taylor Ann